Alex Ferguson is no stranger to infusing his squad with new blood and wielding the axe on senior players. Over the years, his risk taking on team selection had resulted in handsome rewards and some spectacular failures.While the jury is still out for his latest bet on Michael Owen, nobody will debate the success he yielded in the '90s when he threw his lot behind the fledglings comprising Ryan Giggs, Paul Scholes, Gary Neville, David Beckham and Nicky Butt.However, the stakes have gotten higher and Ferguson is not given to wholesale changes to his squad anymore. Competition in the Premier League has increased tremendously with the influx of foreign money and it is no longer a walk in the park or a two horse race between Manchester United and Arsenal. By embarking on spending binges, Chelsea, deprived of success for 50 years have become a Premier League powerhouse.Manchester City are also building a team based on this formula and garnered initial success by demolishing Arsenal and going right down to the wire in the Manchester derby. While Arsenal continue to have a say in the title race, there are also lurking threats posed by the likes of Liverpool, Everton and Aston Villa which have benefited from capable and consistent management.
In addition, the debt obligations of Manchester United, thanks to the Glazers' leveraged buy-out, also mean failure is not an option. Catastrophic financial implications await Manchester United if their title chances and entertainment value decline.Hence, it is not surprising that Alex Ferguson has developed an "unhealthy" dependence on Ryan Giggs and Paul Scholes. Both have been the bedrocks of many brilliant Manchester United teams but age is no longer on their side.Ferguson is reluctant to see Paul Scholes end his stellar service but the latter has indicated that this season could be his last. Scholes has been enjoying a renaissance the last few years after a successful comeback from illness and injuries. Impulsive tackles aside, he has established himself as one of the best midfielders to grace the Premier Leauge.Paul Scholes is most impressive with the ball at his feet. He exudes an assuredness; even with opponents breathing down his neck, he is rarely forced into making stray passes. His passes may appear gloriously simple, yet the range and unerring accuracy are the envy of many footballers.Indeed, the statistics speak for themselves. Against Birmingham, Scholes made 100 passes, 97 of them successful, while against Wigan, he made 41 passes, with 40 of them successful. Against Stoke City on Saturday, his record stood at 70 passes, 67 of them finding their targets.The other indispensable veteran is Ryan Giggs whose recent displays has Alex Ferguson waxing lyrical on his longevity. Ferguson said: "I don't know what else there is to say about Ryan. It's not a matter of him defying his age, it's that there's no discernible deterioration in his game."
"He is an absolutely marvellous player who has thoroughly deserved all the superlatives and praise he has had down the years.""The amazing thing about him is the youthfulness he continues to show. It's as if he is just starting out his career. The other great thing about him is you can praise him to the heavens and he won't be affected by a single word of it."To put Giggs's longevity in context, it is not difficult to play football till 35-36 years old when languishing in the bottom divisions, but to play an influential role at the highest level for a club like Manchester United where there is always intense pressure to win is awe-inspiring.Comapred to United's right wing where many have come and gone, including Andrei Kanchelskis, David Beckham, Karel Poborsky, Cristiano Ronaldo, Jordi Cruyff, and Ole Gunnar Solskjaer, nobody has really toppled Giggs from his rooster except for Alex Ferguson's decision to move him into central midfield.Some fans had called Ryan Giggs the Benjamin Button of the Premier League and it is an apt description for the extraordinary way in which he rolls back the years. The youthfulness in Giggs's play has coincided with his superb match fitness, lack of injuries and confidence.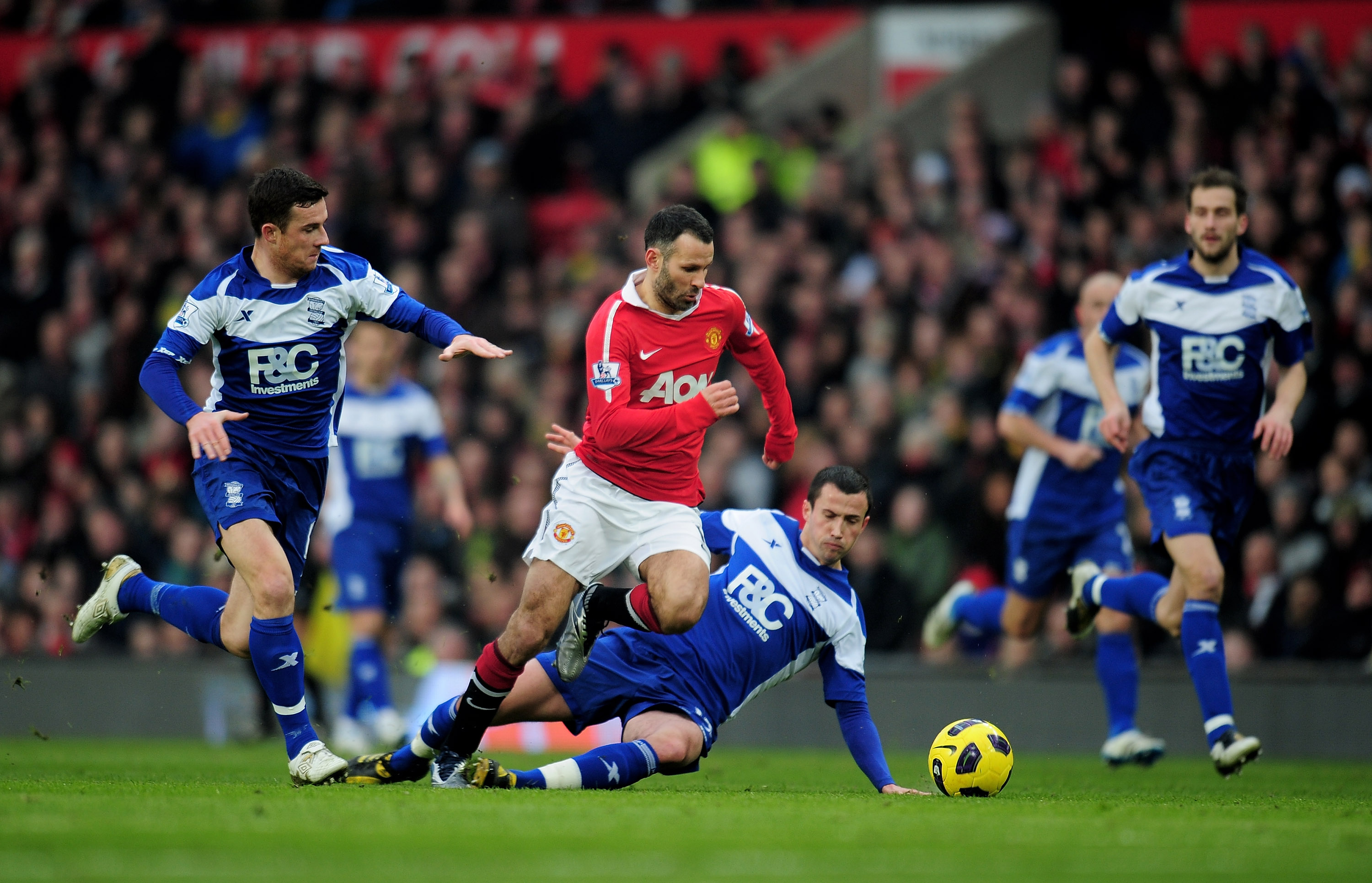 Giggs turns 36 in November, but his form has been excellent so far. He created eight of United's goals in his last three appearances. Micah Ricards, who has a tough job of shackling Ryan Giggs in the 4-3 Manchester derby loss, is not alone in feeling embarrassed that he cannot outrun nor outlast a player many years his senior.Days later, it came down to the Welsh wizard to provide two magical moments for Manchester United to break down a stubborn Stoke's defense through Berbatov and O'Shea. Wolfsburg were then given a reminder of Giggs's evergreen status when they fell prey to his deflected free kick and a superb laid-off for Michael Carrick.I believe Ryan Giggs is a better player than he was four or five years ago when Manchester United went three seasons without a league title and Giggs was singled out by the fans for his peripheral impact.Appeasing the fans' dissatisfaction by finding a scapegoat will have been an easy route for a manager to take. Fortunately, Alex Ferguson refused to bench the player and maintained his unwavering support during those dark moments.It is impossible to speak about the legend Ryan Giggs without mentioning the crucial role Ferguson played as his mentor. From the day Giggs burst on the scene and displaced Lee Sharpe at the tender age of 17, Alex Ferguson was there to shield him from the impressionable media who drew comparisons to George Best.
Ferguson realizes that such attention could be a curse and destroy the budding talent if expectations fall short. Amid all the hype, he ensured his prodigy has his feet firmly planted on the ground, behaves in a professional manner and is kept away from bad influences in football.Giggs has repaid his faith and today he is one of the seniors who passes on the proud Manchester United tradition to the youngsters and provides a calming influence, experience, motivation and close bonding on the pitch.Looking at the accomplishments of Ryan Giggs, it makes me wonder if there will be another player who can accumulate as much awards during his lifetime in this era of "modern" football. As Manchester United's most decorated player, Giggs has won 11 Premier League titles, two European Cups, four FA Cups and three League Cups, as well as the PFA Player of the Year award last season. Yet, success has not bred any complacency in him. In fact, he remains as hungry for success as ever.Giggs scored his 150th goal in all competitions during the Champions League victory over Wolfsburg, becoming the ninth player to reach that landmark. He is also on track to breach the century goals in the Premier League, having scored in each season of the Premier League since its inception in 1992.The goal scoring records are impressive given that Giggs's importance has never been measured by the number of times he finds the net but rather the chances he created.
While past achievements are no indication of the future, Ryan Giggs has no intention of getting by with sub-standard performances. To stay at the top at his age means Giggs has to be more disciplined than his peers in preparing his body for the rigors of Premier League and Champions League football.Brazilians Ronaldo and Ronaldinho may have excelled in their prime but once they put on the extra pounds, they become liabilities to their teams. Fortunately, flab is not a word you associate with Ryan Giggs.Ryan Giggs's temperament, experience and thirst to improve also sets him apart. Aware that blistering pace and dazzling footwork are no longer his forte, he has cultivated other areas of his game, like accuracy in dead ball situations and passing.While Giggs is still skillful enough to stay close to the touchline and pull opponents wide, his conversion into a central midfielder means he has to play a more intelligent game and reads the game well to distribute passes. As a winger, he just needs to focus on getting past defenders and then cross the ball into the six yard box. His ability to refine skills to suit Ferguson's strategic needs speaks volume of his versatility.